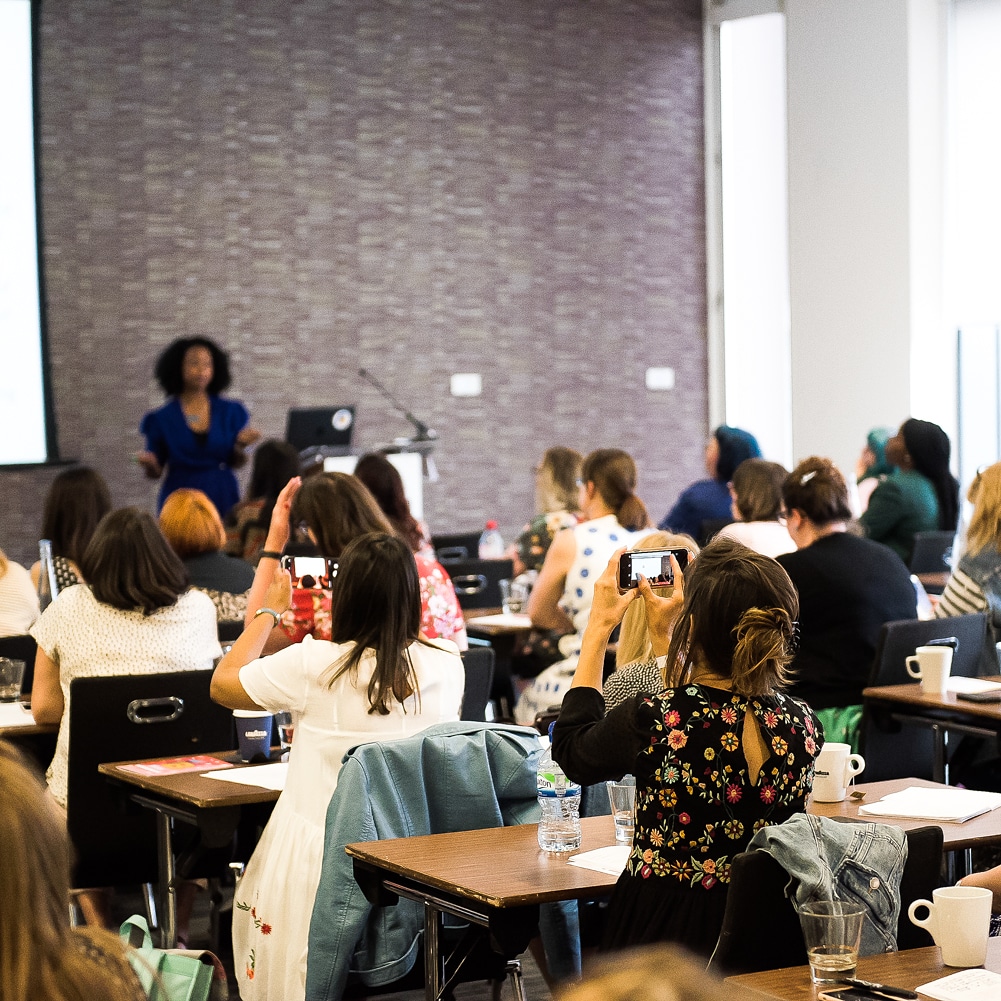 Book Greta to deliver a writing workshop
Topics include:
Writing for creative self-expression
Writing awesome articles and blog posts
Writing from the heart
I have eight years of experience in delivering writing workshops and talks for multi-million pound companies, charities, start-ups, creative conferences and business events.
Upcoming workshops include:
Journaling Workshop for Three Sixty, September, 2019
Recent workshops include:
Here is some more social media feedback from Blogtacular 2018
"Your workshop was AMAZING!! Thank you! I feel super inspired."
"Such an inspiring workshop, thank you so much."
"BRILLIANT workshop. Feeling inspired to write instead of weighed down by the idea of it. Maybe a little lie down though… Full on day!"
"Another great conference!! So much fun seeing the attendees excitedly taking notes, raising great questions and leaving feeling equipped for the next blog post they write! You really share your talent in such an impactful way…it's amazing observing it all!"
"So inspired! And thrilled to make that big realisation during your talk!"
"Your workshop was the best bit of the day. I'm off to take a gander now at what other workshops you do."
"Thanks for such an amazing workshop yesterday @blogtacular, I feel so inspired now."
"Loved your workshop @greta.solomon – looking forward to putting it into practice – great tips"
"Was such a great workshop Greta, I came away feeling enthused and inspired. Thank you."
Pictures taken at Blogtacular 2018, by Will Ireland
"Your personal aura, Greta is of generosity of spirit, of clarity, of possibility."
Companies and organisations that I have provided writing skills training for include: Statoil (now called Equinor), Tieto, Wilhelmsen Ships Service, Econa, Miros, Save the Children, Berg-Hansen, Schibsted Media Group, Professional Women's Network, Oslo Overachievers, Oslo International Hub, Cowi, Medvind Personal and Norway International Network.
I have hosted panel discussions for: Global Talent Week, Precious Online's Write Out: The Second Edition and All The Ways Home book launch. I have provided writing coaching and mentoring for Villoid, Rapid Air Lift and a host of other mission-driven companies.
"Your session was an excellent example of good teaching in practice. Clear, concise instructions: an interesting, real-world opportunity to put learning into practice; great variety of exercises from teacher-led to pair work; lovely creation of a warm, encouraging atmosphere and plenty of checking of understanding." ~ Emily Pedder, Director at The Book Edit & Creative Writing Course Co-Ordinator at City, University of London
"Writing technical information in a clear and concise way is a challenge. When we implemented the new version of our product catalogue we used Greta as a text consultant, to assist our product managers in the process of writing about their products in a clear and precise way. Greta did a great job in training our product managers. I can recommend her services to anyone that needs to sharpen up their language and see the value of implementing plain English in their communication style!" ~ Anette Gether, Business Manager Safety Services, Wilhelmsen Ships Service
"Greta was the ideal choice to lead us through our corporate change from Norwegian to English. She effectively coached and trained our staff in how to write with impact. She also did a special intensive session with me, which has transformed the way I write our quarterly financial reports. Since writing in this new style, our key stakeholders increasingly see the true value in the numbers. I've learned that even in finance, you still need to tell a story." ~ Britt Nilsen, Vice President Finance, Schibsted Media Group
"We've had lots of sales training, but it was never really tailored to our needs. Greta gave us practical tools we could instantly implement that made a real difference to our sales materials and dialogues. But not only does she know her stuff, she was able to get everyone engaged, participating and truly learning. Everything she taught was tailored exactly to us, and I was impressed that she was able to put herself in our world after spending such a short time with us. It was worth every penny, and more!" ~ Cathrine Blomsnes, Head of Sales, Berg-Hansen
"Your workshop at Wilhelmsen Ships Service was excellent and opened up a whole new thought process for me. Although I have now moved to a different company, I am still applying your theories to my work, as we are too technically oriented in our marketing. I work in an end-user company and it is more relevant to have attractive added-value powerful product descriptions. Your teaching has allowed me to think differently and incorporate both internal and external needs in product descriptions." ~ Dave Evans, Business Development Manager, Ocean Safety
"You were quite simply a natural host and handled the panel at the Write Out! event superbly." ~ Foluke Akinlose MBE, Founder of Precious Online & The Precious Awards
"In just two months since working with Greta Solomon, we've seen a positive shift in our sales communication. We've had more Facebook likes, more customer interest and a much more positive perception of our people and products." ~ Per Arne Villadsen, CEO, Berg-Hansen

"I was impressed with Greta's hosting skills at the Oslo Writers League book launch event. She was able to bring out the spirit of each panellist." ~ Chelsea Ranger, Life Science Manager, Horn International
"A wonderful, charming, creative and professional speaker. Greta Solomon gives clear, useful tips and examples you can use in framing emails, proposals, marketing documents and memos. The audience tracker tool is simple to use and makes you realise that common sense is really not common after all! With the present technology age of writing short cuts, or lengthy reports, the essence of a message is often lost. Her tools and tips help capture these pitfalls and nuances. Truly, very helpful." ~ Ashish Sahu, Senior Environmental Process Engineer, Aquateam COWI